Bright Light at the Right Height: Blackfire ClampLight Mounts Exactly Where You Need It
In a world filled with flash lights, Blackfire's 300-Lumen Waterproof Clamplight is something completely different. A shape shifter, Clamplight transforms from a regular flashlight to swivel head multi-mount work light with adjustable brightness. All for an affordable MSRP of $29.99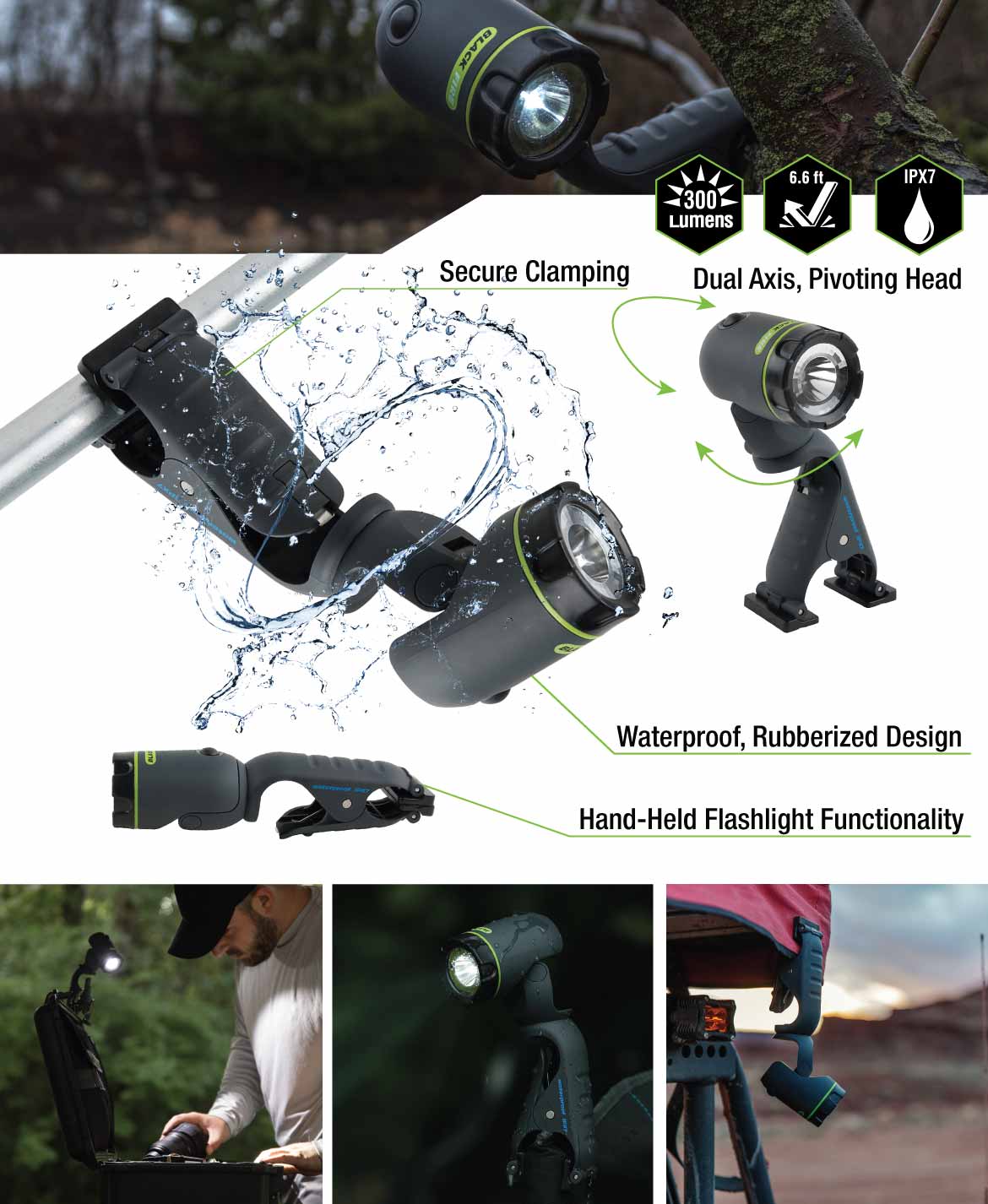 As I sit writing this, snow is falling outside and a winter storm is coming in. Our powerlines don't do well in snow. With a propane heater and a Clamplight, I am not afraid of freezing in the dark. It runs 10 hours at low power and 1.75 hours on bright. I have extra batteries and propane.
I have used Clamplight vehicle camping and shooting. It is the closest thing to a universal light I have ever seen. It is light and compact. It will attach to anything or stand on its own two feet and light up anywhere hands free. What is not to like?
Clamplight Features:
HIGH POWER: 300 Lumens (High) 130 Lumens (Low) CREE LED
WATERPROOF: IPX7 Construction with non-slip rubberized coating
MULTI-FUNCTIONAL: Hand-Held, Clamps,& Stands
ANGLED LIGHT: Double-axis pivoting allows for infinite light angles
DURABLE: 6-Foot drop protection with strong stainless steel springs
RUNTIME: 10 Hours on Low
Specifications:
Overall Length: 8.4" (21.3 cm)
Overall Height: 2" (5.1 cm)
Diameter: 2" (5.1 cm)
Weight: 8.0 oz (226.8 g)
Material: ABS, Soft Touch
Lumens: High: 300; Low: 130 High: 2 hrs; Low: 6 hrs
Batteries: 3 x AAA
Temperature Range: 32°F to 122°F (0°C to 50°C)
Clamplight holds the light where you need it and lets your hands work. . IPX7 waterproof, it is perfect for prepping, camping, overlanding, hunting, fishing, boating and all around outdoor use. The Waterproof Clamplight is like no other flashlight in the world.
You can get you very own Blackfire Clamplight HERE. MSRP $29.99
About Blackfire: An Outdoor Gear Brand of Klein Tools
Blackfire is a USA based brand, headquartered in Texas. Blackfire makes products created by a group of product development wizards at Klein Tools. This specialized team has spent as much time in the great outdoors as they do on the jobsite to develop the addiction for outdoor-related products and tools.
Concerned with the lack of quality with current outdoor products on the market, the team looked toward the strengths of their own jobsite accessories and brought them along for the journey. Thus, one dark night, while sitting around the campfire, the idea behind the brand was created. That idea was the essence of the Blackfire product line!